Unit 11
GIS and Society
---
Collaboration at the

Local level
PPGIS (Participation GIS) – A GIS framework that allows citizens to be involved in the spatial decision making process.
By means of:
The Internet-based collaboration environment (different place, different time);

Video conference (different place, same time);

Physical geographic models (same place, same time) (Fig. 1)

Virtual geographic models (same or different place, same time) (Fig. 2);

Voluntary map making by volunteers (Fig. 3);

Combination of the above.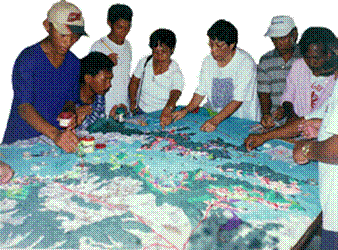 Figure 1. The Example of Participatory 3D Models 
(original image from http://www.iapad.org/database/modeldetails.asp?id=3) (no longer exist)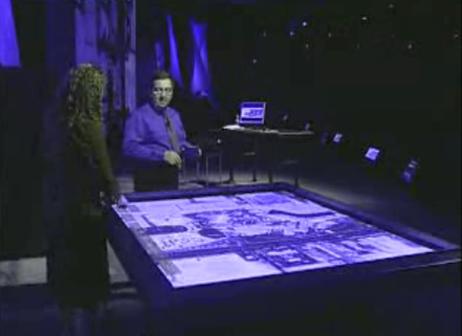 Figure 2. The Example of "Touch Table"
(Screenshot of the YouTube video)
http://www.youtube.com/watch?v=X2pPeW4cUgU )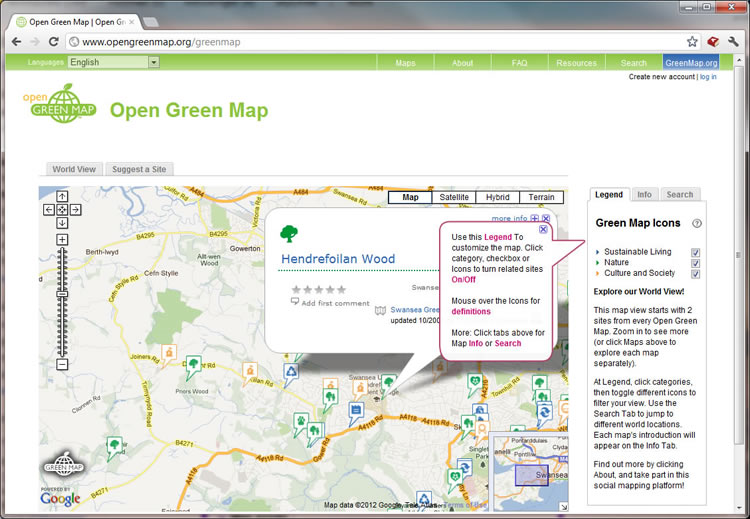 Figure 3. An Example of "Green Map" System ( http://www.opengreenmap.org/greenmap )
The primary goal is to make it possible for the public access, sharing and analysis to the geographic information. Based on these, a more wise spatial decision can be reached.
Examples of High School Student's GIS activities:
http://geoinfo.sdsu.edu/hightech/LM3/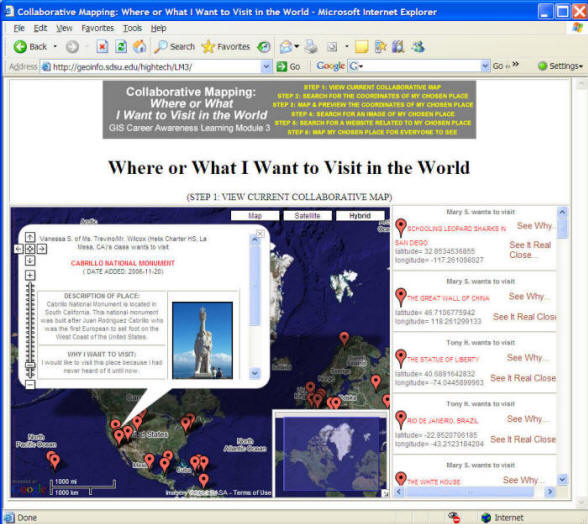 (Figure 4.  The collaborative map labeling tasks, from the NSF-ATE project:  http://geoinfo.sdsu.edu/hightech )
Collaboration at the

National Level
NSDI – National Spatial Data Infrastructure. (mainly for the United States).
Key components:
Standards

(FGDC's standards)

Data clearinghouse

(Geo.Data.Gov)

Digital spatial data framework

(National Map, National Atlas)
Standards

: FGDC (Federal Geographic Data Committee) standards.

(http://www.fgdc.gov/standards/projects/FGDC-standards-projects/index_html).

Metadata Standards:

The Content Standard for Digital Geospatial Metadata (CSDGM), Vers. 2 (FGDC-STD-001-1998) is the US Federal Metadata standard. The Federal Geographic Data Committee originally adopted the CSDGM in 1994 and revised it in 1998. According to Executive Order 12096 all Federal agencies are ordered to use this standard to document geospatial data created as of January, 1995. The standard is often referred to as the FGDC Metadata Standard and has been implemented beyond the federal level with State and local governments adopting the metadata standard as well.


CSDGM resources: 

CSDGM Workbook - The CSDGM Workbook is a user-friendly view of the standard that includes background on the development of the standard, explanations of special format requirements, example values, FAQs, and sample metadata. This workbook is highly recommended for use in all introductory metadata training and as a desktop reference guide.

CSDGM Graphical Representation - This set of color-coded diagrams developed by Susan Stitt of the USGS Biological Resources Division provides a graphical representation of each section of the CSDGM, the elements contained within the section and the conditionality of the elements.

NSDI Framework Standards: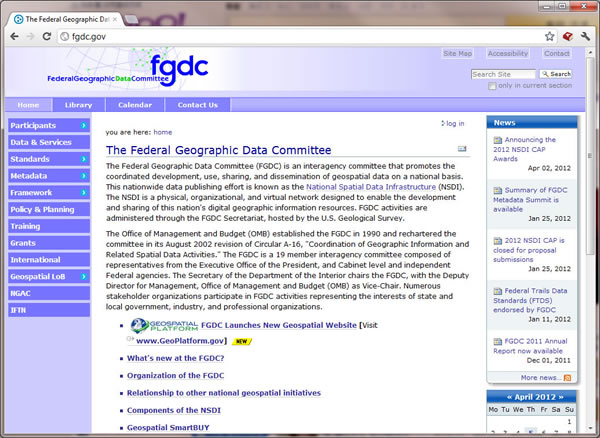 Data Clearinghouse

: 

Geo.Data.Gov

.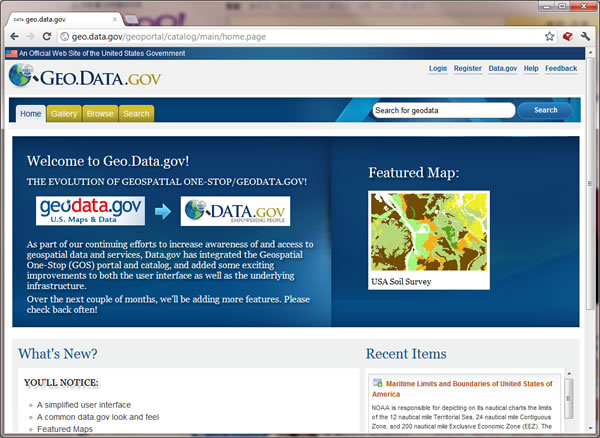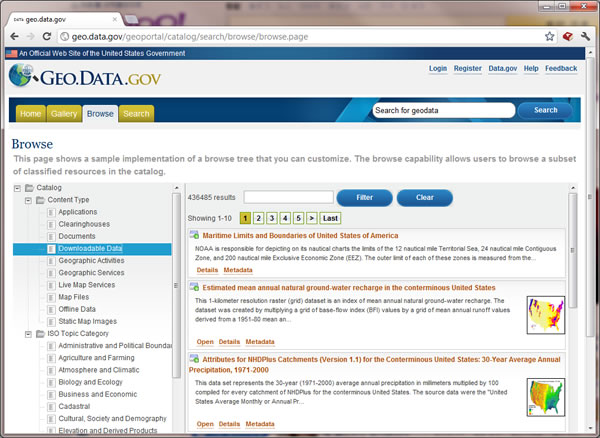 The development of a national digital spatial data framework is difficult.
The National Map is a consistent framework for geographic knowledge needed by the Nation. It provides public access to high-quality, geospatial data and information from multiple partners to help support decision making by resource managers and the public. The National Map is the product of a consortium of Federal, State, and local partners who provide geospatial data to enhance America's ability to access, integrate, and apply geospatial data at global, national, and local scales.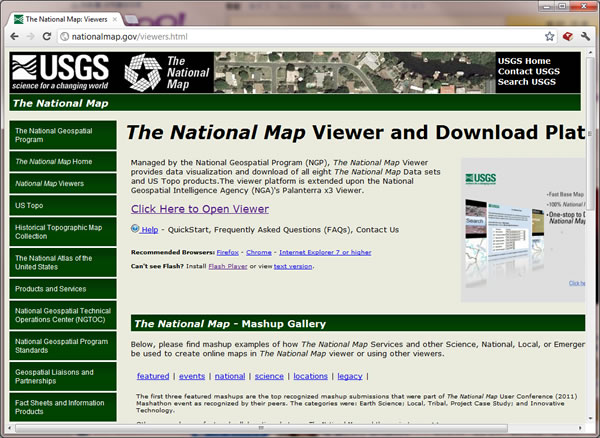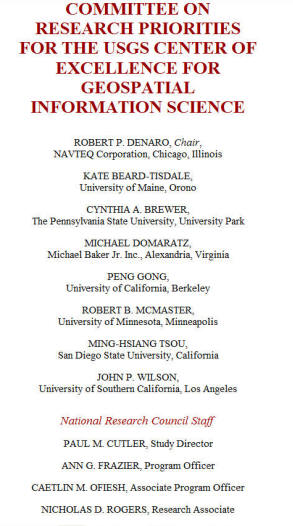 A Research Agenda for Geographic Information Science at the United States Geological Survey
2007
http://books.nap.edu/catalog.php?record_id=12004

Comprehensive and authoritative baseline geospatial data content is crucial to the nation and to the U.S. Geological Survey (USGS). The USGS founded its Center of Excellence for Geospatial Information Science (CEGIS) in 2006 to develop and distribute national geospatial data assets in a fast-moving information technology environment. In order to fulfill this mission, the USGS asked the National Research Council to assess current GIScience capabilities at the USGS, identify current and future needs for GIScience capabilities, recommend strategies for strengthening these capabilities and for collaborating with others to maximize research productivity, and make recommendations regarding the most effective research areas for CEGIS to pursue. With an initial focus on improving the capabilities of The National Map, the report recommends three priority research areas for CEGIS: information access and dissemination, data integration, and data models, and further identifies research topics within these areas that CEGIS should pursue. To address these research topics, CEGIS needs a sustainable research management process that involves a portfolio of collaborative research that balances short and long term goals.
Nationalatlas.gov™ is the new National Atlas of the United States®. Like its predecessor, this new atlas provides a comprehensive, maplike view into the enormous wealth of geospatial and geostatistical data collected for the United States. It is designed to enhance and extend our geographic knowledge and understanding and to foster national self-awareness.
Unlike the big bound map collection of 1970, the latest National Atlas includes electronic maps and services that are delivered online. We are using information presentation, access, and delivery technologies that didn't exist 30 years ago to bring you a dynamic and interactive atlas. But we have held fast to our tradition of producing the finest maps in the world. We think nationalatlas.gov™ is more useful than any bound collection of paper maps.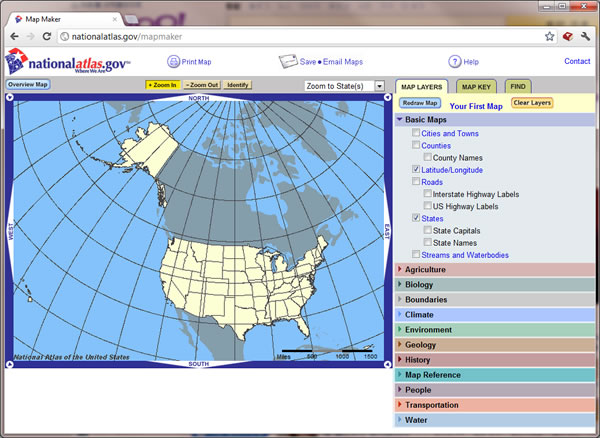 Discussion:
How important for creating the NSDI (National Spatial Data Infrastructure)?  
What kinds of applications might require NSDI?
---
Major GIS Organization and Communities in U.S.
NCGIA: (The National Center for Geographic Information and Analysis) http://www.ncgia.ucsb.edu/
The National Center for Geographic Information and Analysis is an independent research consortium dedicated to basic research and education in geographic information science and its related technologies, including geographic information systems (GIS). The three member institutions are the University of California, Santa Barbara; the University at Buffalo; and the University of Maine. The consortium was formed in 1988 to respond to a competition for funding from the National Science Foundation, and continues to receive much of its funding from that source. Total funding to the consortium amounts to approximately $5 million per year.
UCGIS: University Consortium for Geographic Information Science http://www.ucgis.org/
The University Consortium for Geographic Information Science emphasizes the multidisciplinary nature of GIS and the need for balance and cooperation among the disciplines.
In 1988, the U.S. National Science Foundation established the National Center for Geographic Information and Analysis (NCGIA), a consortium of three institutions: the University of California at Santa Barbara, the State University of New York at Buffalo, and the University of Maine. The primary mission of the NCGIA was to conduct basic research, but the organization was also asked, from time to time, to provide services or coordination for members of the broader Geographic Information Science community. In 1990, the NCGIA board of directors recommended that a more broadly-based organization be established to promote and support the field, especially the needs of researchers. After continued discussions in 1991, the NCGIA responded by establishing an ad hoc steering committee consisting of 16 individuals from as many institutions, representing about seven different academic disciplines. After a series of meetings at professional conferences, sufficient momentum was gathered to establish a national conference on the issue in Boulder, Colorado.
GeoTech Center: http://www.geotechcenter.org/   (for Community College GIS programs and trainings).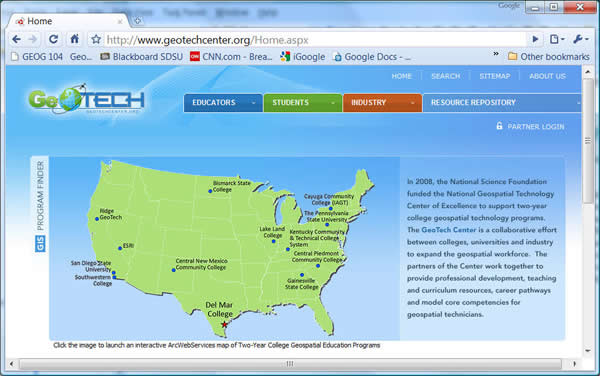 Federal Governments:
USGS

: U.S. Geological Survey. A new Center of Excellence for GIScience. http://www.usgs.gov/
NASA

: Earth Data System.  A new GIO:  Geosciences Interoperability Office. http://www.nasa.gov/
NGA

:  National Geospatial-Intelligence Agency https://www1.nga.mil/
NOAA

: The National Oceanic & Atmospheric Administration http://www.noaa.gov/.

 
Local Governments:
California Geographic Information Association (CGIA) is a non-profit, state-wide organization formed in 1994. CGIA supports the use, acquisition, exchange, and management of high-quality geographic information in the State of California among all interested agencies, institutions, companies, and individuals.
CGIA facilitates coordination, collaboration, and counsel for California's Geographic Information System (GIS) community.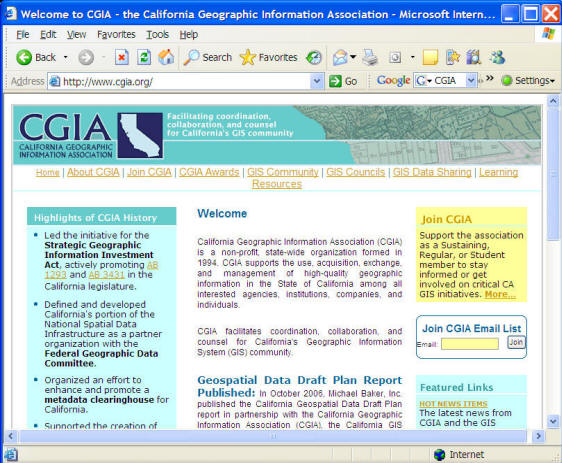 San Diego Regional GIS Council:
To serve as a forum for San Diego region public agencies to develop partnerships, and share information, ideas, strategies, and solutions regarding the management of GIS and related technologies in order to provide more efficient and effective service to our agencies and constituents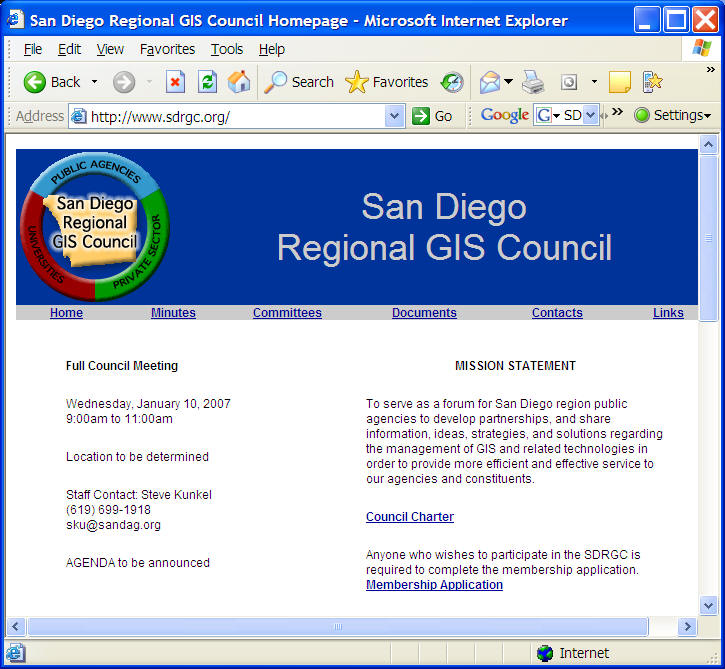 AAG: GIS Specialty Group and Cartography Specialty Group.
The Association of American Geographers (AAG) is a scientific and educational society founded in 1904. Its 9,000+ members share interests in the theory, methods, and practice of geography and geographic education.
GIS Specialty Group: Website hosted by SDSU Geography Department:  http://geography.sdsu.edu/aaggis/
The Urban and Regional Information Systems Association (URISA) is a nonprofit association of professionals using Geographic Information Systems (GIS) and other information technologies to solve challenges in state/provincial, regional and local government agencies.
Since 1963, URISA has been the professional home of choice for Public Sector GIS and IT Executives throughout the United States, Canada and other countries worldwide. URISA has provided a strong record of leadership in the GIS industry by providing high quality professional education, fostering communications among IT/GIS management professionals in provincial/state and local government, and encouraging a multi-disciplinary approach to the design, use and management of urban and regional information systems.
The Geospatial Information & Technology Association (GITA) is a nonprofit educational association serving the global geospatial community. Our site has been created with the intent of providing you a variety of information and useful references for your professional and technical needs. We'll do our best to keep this site fresh with descriptions of new programs and services, while also providing you with a stable source of important member contacts, industry news, and association-related ongoing programs, such as ourAnnual Conference.
---
Collaboration at the

International Level
Potential Problems:
More complicated than a single country

.
Need

 centralized coordination

,

C

ultures and language differences

.
GSDI:  GLOBAL SPATIAL DATA INFRASTRUCTURE ASSOCIATION
The GSDI Association is an inclusive organization of organizations, agencies, firms, and individuals from around the world. The purpose of the organization is to promote international cooperation and collaboration in support of local, national and international spatial data infrastructure developments that will allow nations to better address social, economic, and environmental issues of pressing importance.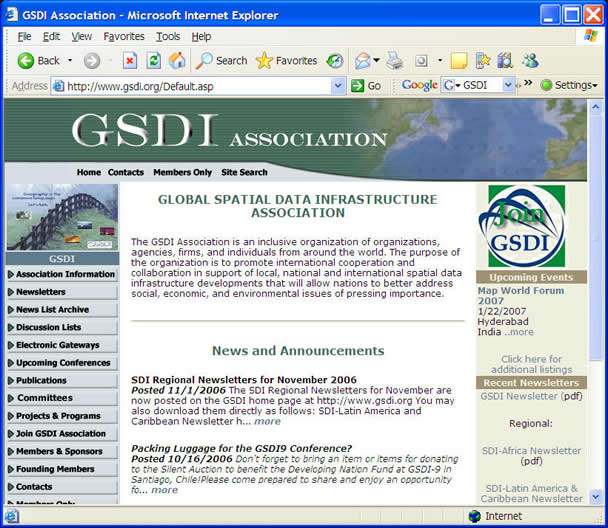 Figure 6.  GSDI Association.
GEOSS: Global Earth Observation System of Systems
https://www.earthobservations.org/geoss.php
https://www.fgdc.gov/international/geoss
http://www.earthobservations.org/index.html
(cited from the website)  On February 16, 2005, 61 countries agreed to a plan that, over the next 10 years, will revolutionize the understanding of Earth and how it works. Agreement for a 10-year implementation plan for a Global Earth Observation System of Systems, known as GEOSS, was reached by member countries of the Group on Earth Observations at the Third Observation Summit held in Brussels. Nearly 40 international organizations also support the emerging global network. The GEOSS project will help all nations involved produce and manage their information in a way that benefits the environment as well as humanity by taking a pulse of the planet.
In the 18 months since the first-ever Earth Observation Summit  of July 2003, the number of participating countries has nearly doubled, and interest has accelerated since the recent tsunami tragedy devastated parts of Asia and Africa. In the coming months, more countries and global organizations are expected to join the historic initiative.
The intergovernmental Group on Earth Observations (GEO) is leading a worldwide effort to build a Global Earth Observation System of Systems (GEOSS) over the next 10 years. http://www.earthobservations.org/index.html 

In the United States, the USGEO (http://usgeo.gov/) is the major group to participate on GEOSS.
The European Cases:
EUROGI:  One of the major GIScience community in Europe http://www.eurogi.org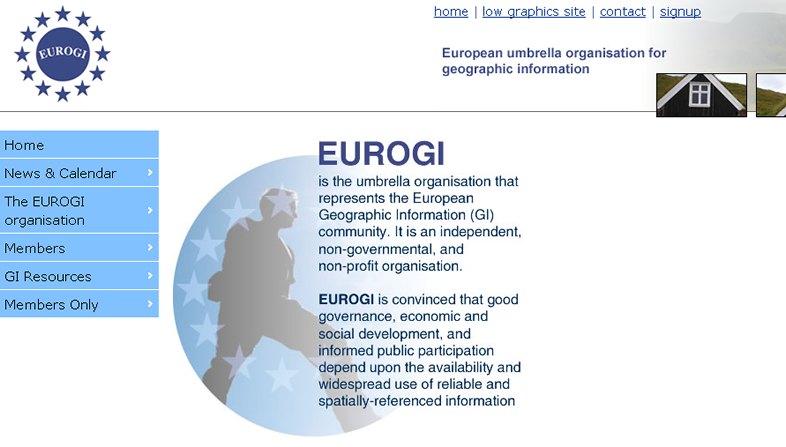 Figure 7. EUROGI (The European Umbrella Organization for Geographic Information)
AGILE: facilitate many GIS research projects in Europe
The Association of Geographic Information Laboratories for Europe (AGILE) was established in early 1998 to promote academic teaching and research on GIS at the European level and to ensure the continuation of the networking activities that have emerged as a result of the EGIS Conferences and the European Science Foundation GISDATA Scientific Programmes. 
AGILE seeks to ensure that the views of the geographic information teaching and research community are fully represented in the discussions that take place on future European research agendas and it also provides a permanent scientific forum where geographic information researchers can meet and exchange ideas and experiences at the European level.

Figure 6. AGILE (The Association of Geographic Information Laboratories in Europe) (http://www.agile-online.org/)
The counterpart of US NSDI – INSPIRE (Fig. 7) for European Union
The initiative intends to trigger the creation of a European spatial information infrastructure that delivers to the users integrated spatial information services. These services should allow the users to identify and access spatial or geographical information from a wide range of sources, from the local level to the global level, in an inter-operable way for a variety of uses. The target users of INSPIRE include policy-makers, planners and managers at European, national and local level and the citizens and their organizations. Possible services are the visualisation of information layers, overlay of information from different sources, spatial and temporal analysis, etc.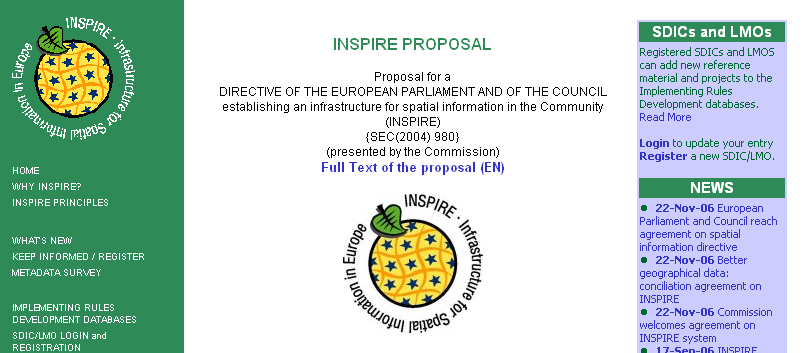 Figure 7. The INSPIRE Program (The Infrastructure for Spatial Information in Europe)
(http://www.ec-gis.org/inspire/)
The Asia and the Pacific Cases:
AGISA: The Asia Geographic Information System Association 
http://www.hku.hk/cupem/asiagis/index.htm
The Asia Geographic Information System Association was founded in October, 2003. The Association is a non-profit, non-political entity and has the objectives of providing a forum to promote teaching, research, development, and applications of GIS and its related technology in Asia. This website is especially dedicated to providing the lastest news and information for it.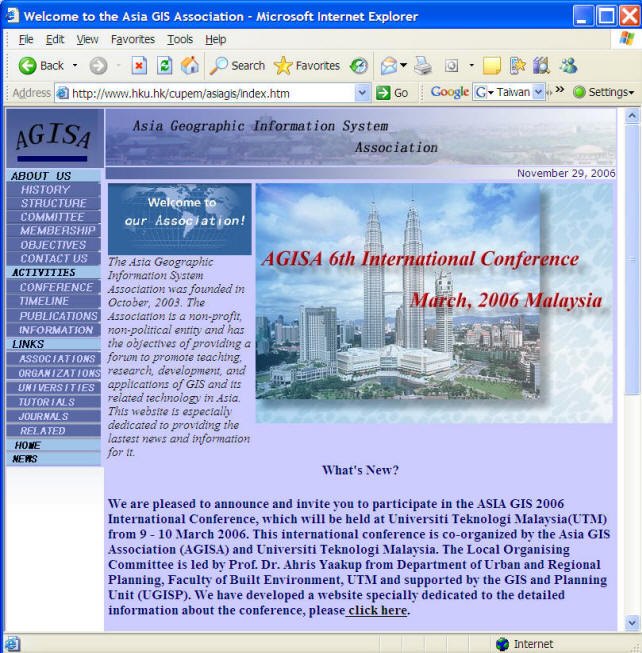 PCGIAP: The Permanent Committee on GIS Infrastructure for Asia and the Pacific.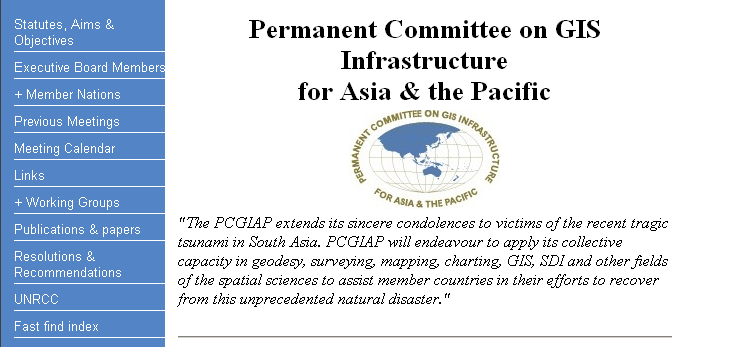 Figure 8.  PCGIAP ( http://www.gsi.go.jp/PCGIAP/  )
CPGIS: the International Association of Chinese Professionals in Geographic Information Sciences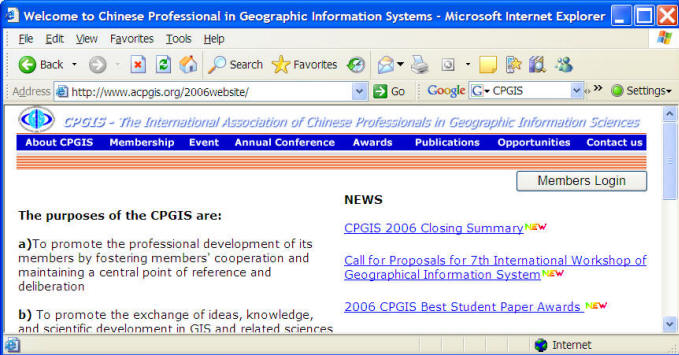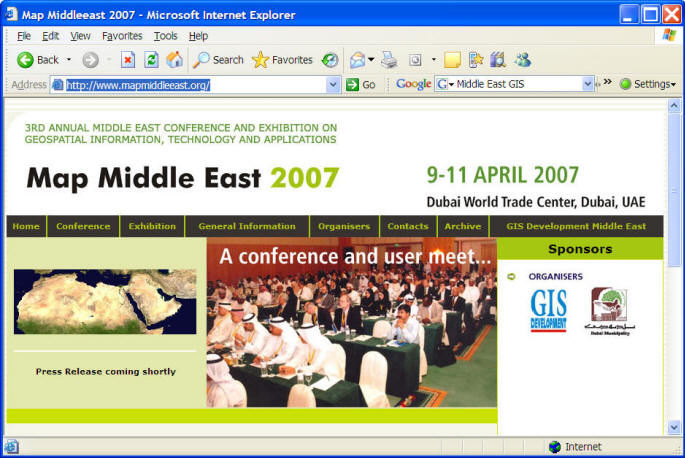 Discussion: What are the major difficulties for these multi-national collaborations compared to the U.S. efforts?
Data Cost:  U.S.  Free Information Access
Application focus:  Economic Growth vs. Environmental Protections.
---
More Issues of GIS and Society
The issues raised in the building of global Geographic Infrastructure.
Lack of Political Supports.
Requiring International Standards (OGC efforts).
Asking for Global Geospatial Framework.
OGC: Open Geospatial Consortium

            Figure 9. The Open Geospatial Consortium Inc.
Discussion: Can the Google Mapping Products (or similar tools) be used as the platform to integrate global geospatial information? Why?
Some issues about GIS and Society
---
Unit 11: In-Class Discussion
What is the connection between the San Diego Regional GIS Counsule and SDSU? (Can SDSU collaborates with the selected organization? How?