Real-time Spatial Decision Support Systems (SDSS)
Provide spatial information for the Public and the Media
Provide mobile GIS/GPS for fire-fighters and fire equipment for resource relocation plan
Mitigation, Response, and Recovery
Spatial Decision Support Systems (SDSS)
By utilizing a standardized web mapping interface, individual participating agencies can implement their own data systems and services while maintaining an aggregated system-wide interoperability through multiple data warehouses and web-based decision support systems (Figure 1). Two data warehouses (one operational and one for emergency backup) should be established to provide the gateway for accessing geo-spatial data and remote sensed imagery for various applications. Each data warehouse will update their data automatically by communicating with each local database server through standardized communication protocol (Z39.50, TCP/IP, and HTTP) and OpenGIS catalog interface. The web-based Spatial Decision Support Systems (SDSS) will provide on-line mapping functions and the display of remotely sensed data. The web-based SDSS can used by decision makers and spatial analysts in command and control centers to collect and process information via a secure intranet or encrypted mobile wireless networks, to make decisions and initiate responses to field locations and on-site officers.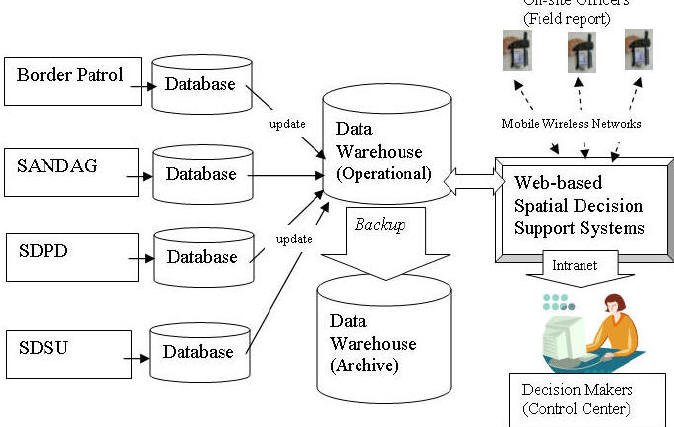 (Click the image to enlarge)
Interoperable database framework for web-based spatial decision support systems.
xxx
How GIS Can Help Us