Mobile GIS is a mapping technology for resource managers and other field workers to visualize and improve their field-based management and research tasks. With mobile GIS, field workers may capture spatial data directly in the field and, with access to a wireless communication network, the data can then be remotely transferred in real time to the central database back at the company office. The ability to enter data remotely is invaluable because it reduces time spent correcting and reentering data into the main database. Mobile GIS is especially important in emergency situations and natural disasters when emergency workers, such as firefighters, need to have access to the most current and accurate information in order to make decisions about people's lives and the health of the environment.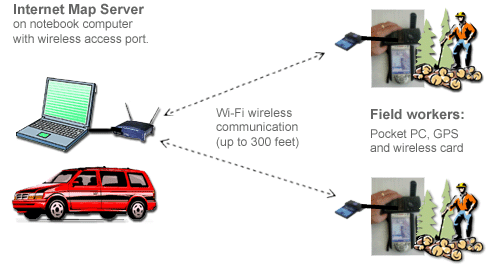 Wireless Local Network Solution for Mobile GIS
The above figure illustrates a possible working example of a mobile GIS solution. In this example, an Internet map server is installed on a notebook computer with wireless access port. The notebook and wireless access port will be placed inside a vehicle to provide power for wireless communication. Field workers can use pocket PCs with GPS and a wireless card to access large remote-sensing imagery and GIS data from the server via the Wi-Fi communication channel. The whole system is mobile and suitable for various environmental monitoring tasks.

Here at SDSU, we seek to establish solutions that integrate mobile GIS applications. Thus, we use mobile devices that have the integrated capabilities of GPS, GIS, and remote sensing. In addition, Web-based mapping resources can be integrated with wireless mobile devices and GPS. Currently, ESRI's ArcPAD is the pocket-size GIS software which can be used in this research. Also, Microsoft provides several free development tools for mobile and embedded applications under their .NET framework, such as the Microsoft Mobile Internet Toolkit (MMIT). MMIT adopted Wireless Markup Languages and compact HTML (cHTML) which can be applied for mobile devices.
Mobile GIS example at Mission Trails Regional Park