We used mobile GIS technologies (ESRI ArcPAD and wireless Bluetooth GPS) to take some digital videos and high-resolution photos by driving on Highway 52 and around Mission Trails Regional Park (MTRP) on November 12, 2003.
Special thanks to Lloyd (Pete) Coulter for driving the vehicle and taking these digital pictures. Also thanks to John Ryan for introducing panoramic image concepts.
Download the field trip movie:
MPEG version (133MB)
WMV version (192MB)
Step 1 - Synchronize the time clock between the digital video, Pocket PC, and digital camera.

Step 2 - Connect the wireless blue tooth GPS (left) with Pocket PC (right).
Step 3 - Take videos and pictures.
Step 4 - Create the panoramic view.

Click Here to see the QuickTime Movie for Panoramic View
Download File Size: 8MB
You need to have QuickTime Movie Viewer

The following videos and pictures show the boundaries of the wildfire and the preliminary damage in the burned areas (red shading). The following map was created by using a GPS tracking log data (the pink line shows our vehicle driving path) with the location (blue dot) of high-resolution pictures with panorama 360 degree view. The yellow line is the boundary of mission trail regional park. (Click the blue text to zoom in)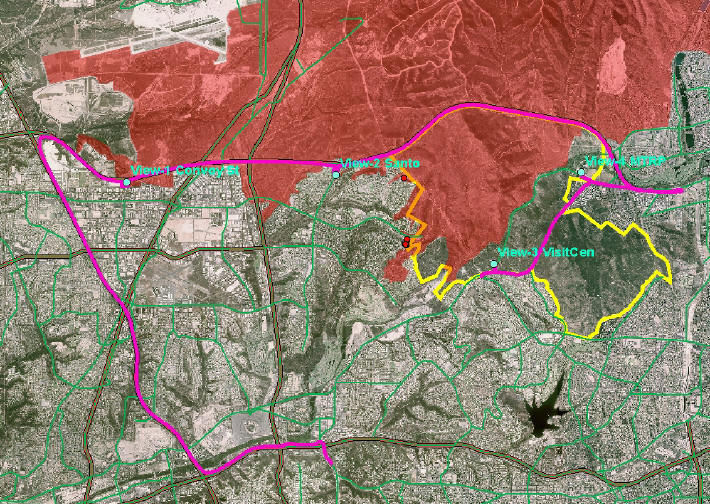 View 1: Convoy Street and Highway 52.
Click Here to see the QuickTime Movie (20MB)



View 2: Santo Road and Highway 52
Click Here to see the QuickTime Movie (23MB)



View 3: Mission Trail Regional Park, Visitor Center
Click Here to see the QuickTime Movie (8MB)



View 4: Mission Trail Regional Park, Visitor Center
Click Here to see the QuickTime Movie (8MB)


Other pictures