GEO 583 Internet Mapping and Distributed GIServices
LAB FIVE: KML and Software Package Comparisons
Created and Updated by Dr. Ming-Hsiang Tsou,
Department of Geography, San Diego State University
Due day: March 1 at 12:30.
10 Points (total 100).
TASK ONE: KML
1. Use 10 minutes to Read the on-line tutorial about KML at this link: http://earth.google.com/kml/kml_tut.html (You don't need to complete the whole contents, just get a few ideas about KML).
2. Create a [lab-5] folder in your Z: drive folder. (under the g583-##).
3. Open the Y: drive and copy the /KML-examples/ folder into your lab-5 folder.
4. In the File mangers, highlight the "SanDiegoStateUniversity.kml". click on the Right button on the mouse to [Open With],--> Select [WordPAD] or [NotePAD] to open the KML file. Take a look about the KML file structure.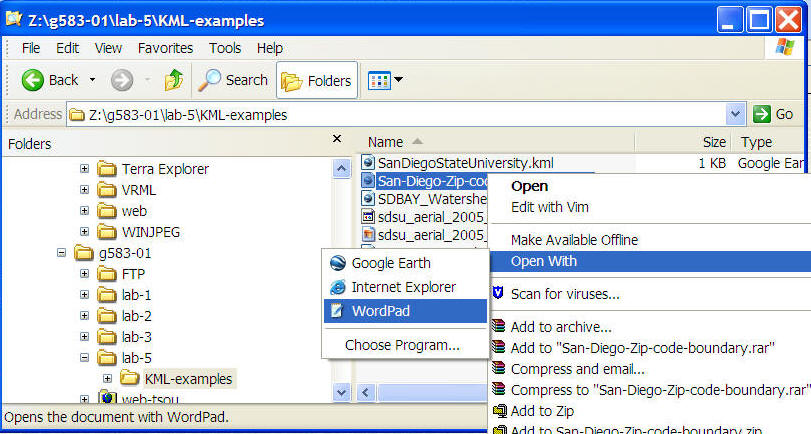 5. Now close the WordPAD (or NotePAD). Double Click on the SanDiegoStateUniversity.kml file again. The Google Earth will be launched automatically. What did you see on the Google Earth?
6. Now let's add a landmark on the Google Earth. Select an interesting landmark inside the San Diego county. For example, I select the Seaport Village as my example.
7. Click on the [Add ]menu and then select [Placemark].
<![if !vml]>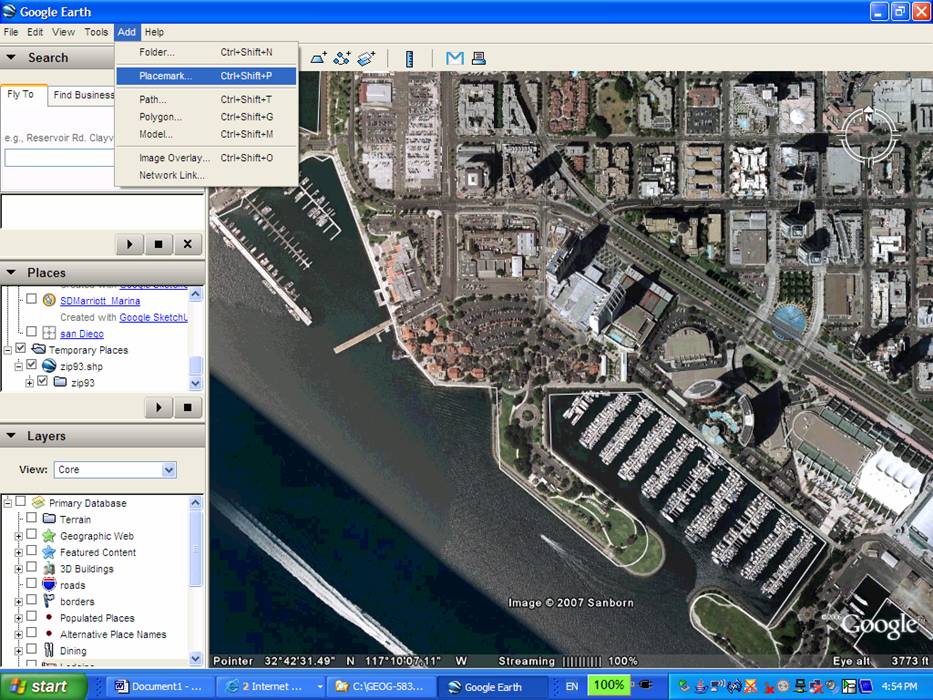 <![endif]>
8. A new window will pop-up. Please add more information regarding the Name, Description, change the [icons] by clicking on the icon graphic in the window, color, a URL in the description, etc. Once you finish. Press [OK].
<![if !vml]>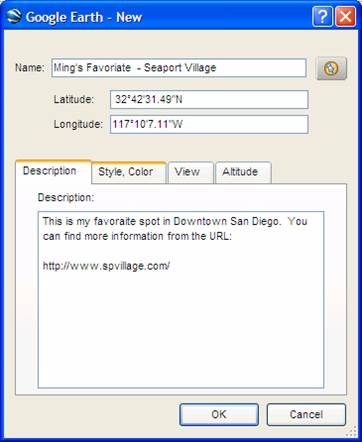 <![endif]>
<![if !vml]>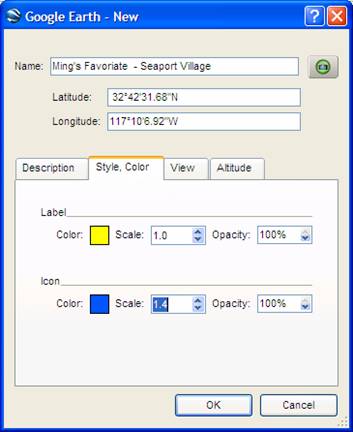 <![endif]>
Now click on the landmark, you will see the following:
<![if !vml]>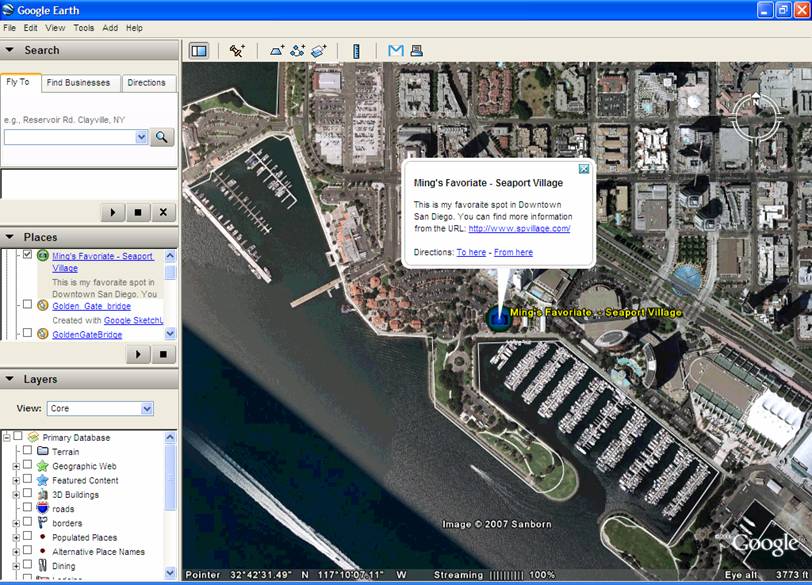 <![endif]>
You can also overlay a new image into the Google earth. Let's zoom in to [San Diego State University].
Now we have an old (2005) images. Let's overlay it.
The first step is to click on the [Add] menu --> Image Overlay.
In the Box of the "Image URL or filename, type:
http://map.sdsu.edu/geog583/data/sdsu_2005.jpg
Since it is just randomly overlay, we need to use "Rubber-sheeting" methods to try our best to match the older images with the new one. (Try your best.. If you can not match them perfectly, that's fine, don't spend too much time on this taks).
<![if !vml]>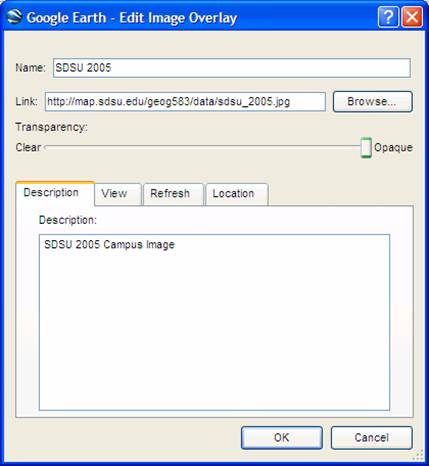 <![endif]>
<![if !vml]>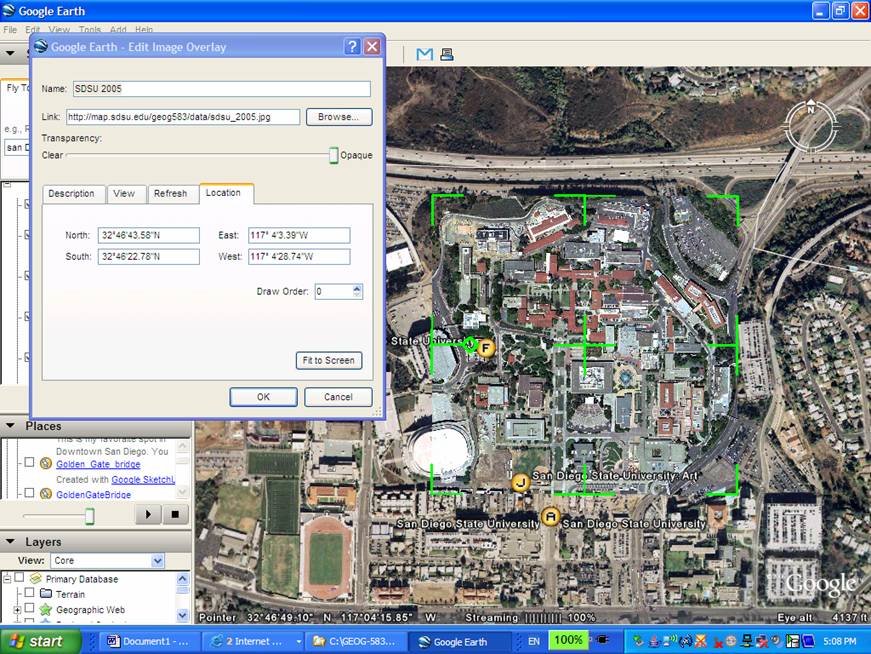 <![endif]>
Now you have three major new element in your Google Earth ( One SDSU marker, one your own landmark, and one SDSU image overlay). You can share these information to your friends by saving them to your own website.
The first step is to make sure that all three elements are stored in [Temporary Place] folder. If any elements are not in [Temporary Place] folder, click and move that layer to [Temporary Place] folder.
After all elements/layers are stored in [Temporary Place]. The next step is to create KML or KMZ file.
Highlight the [Temporary Place] folder, right-click on the label and select [Save As ..]
<![if !vml]>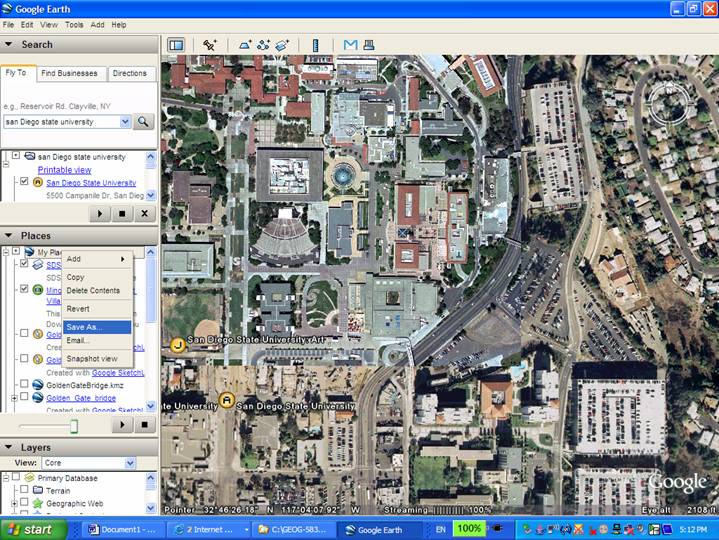 <![endif]>
SAVE your KML file into the lab-5 folder as Yourlastname-lab-5.kml. (Make sure you select KML as the [Save as type].
<![if !vml]>
<![endif]>
(Please modify your KML to add more interesting effects and contents, for example a 3D building, or a new place, etc.).
After you save the KML, upload your KML into the Blackboard Discussion Forum along with this week's questions.

TASK TWO
2. Access the following different web sites and try their on-line demos. (If some web applications require the Viewer installation, skip that one or try it at your home computers.)
Select THREE different Internet Mapping applications and write down your comments and suggestions for each applications (You can search for other types of applications besides the following examples).
ArcGIS online:
SANGIS ArcGIS online Interactive Maps
CartoDB: http://cartodb.com/
Mapbox: https://www.mapbox.com/
Google My Map: https://www.google.com/maps/d/splash?app=mp

CommonGIS: http://www.iais.fraunhofer.de/index.php?id=1863&L=1
http://geoanalytics.net/eda/GeoVisCourse/pt-pl.html
http://geoanalytics.net/eda/GeoVisCourse/index.html
ER Mapper Image Web Server (NOW ERDAS Image Web Server): http://iws.erdas.com/sampleiws/
GEOServer http://geoserver.org/
(example)
http://boyang.cs.uwm.edu:8080/geoserver/demo.do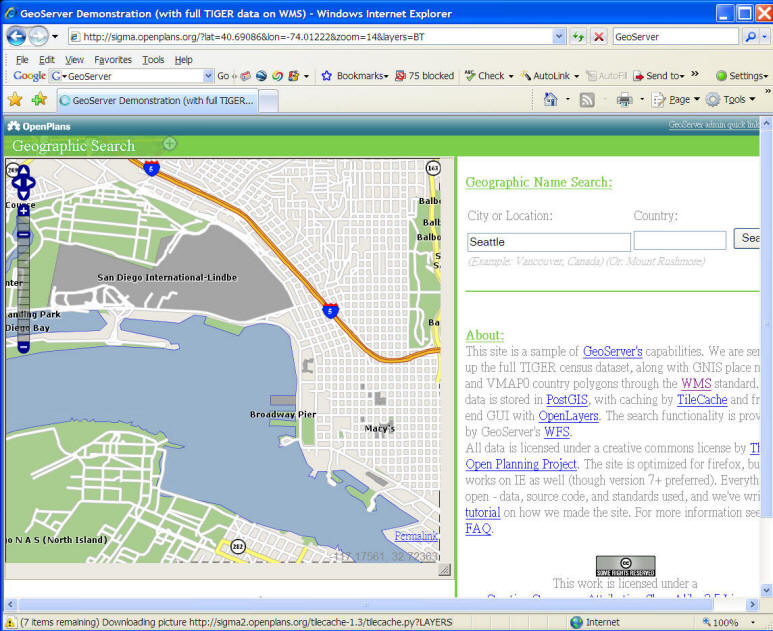 MapServer Demo: http://mapserver.org/
http://www.mapserverpro.com/demo.php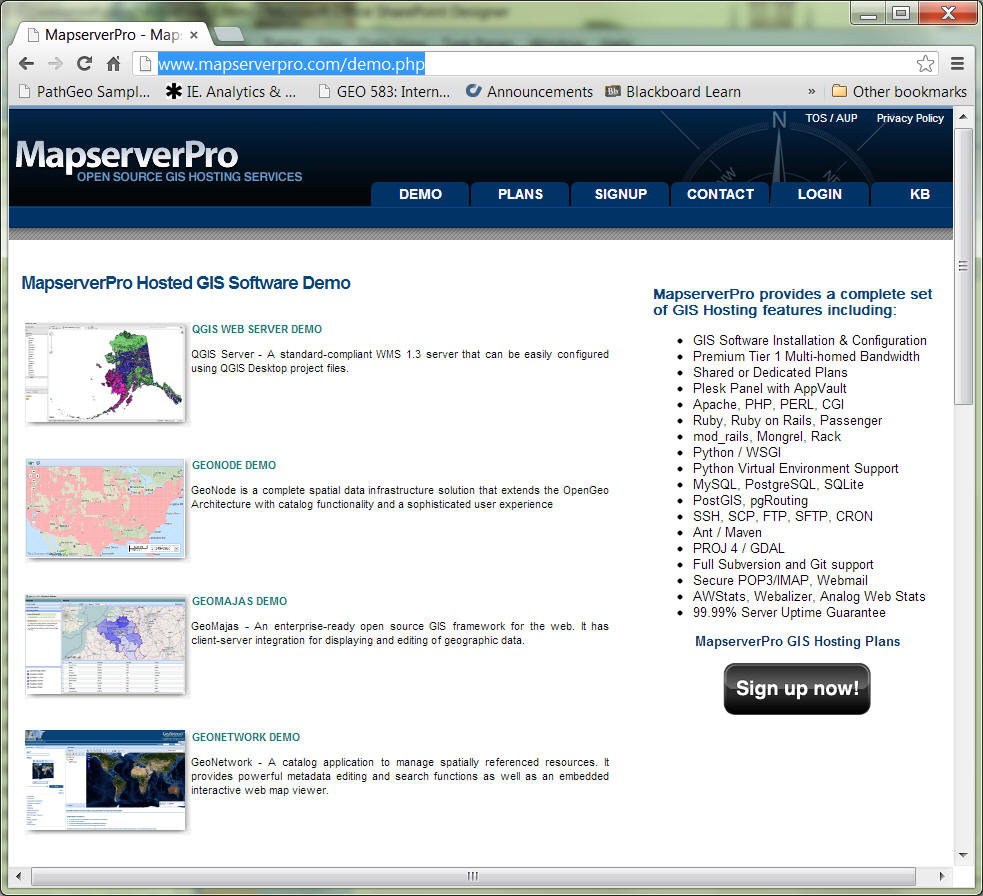 Sources:
http://blog.safe.com/2015/01/6-google-maps-engine-alternatives/

Use the online forum to answer the following questions:
(and print out a paper copy)
Blackboard URL: https://blackboard.sdsu.edu/
1. Upload your own KML into the Blackboard and create a short explanation about your KML file.
2. Post your comments on three different Internet mapping applications and their URL (from the previous lists or your new examples). Describe their advantages / disadvantages, user interface design, and the spatial analysis functions (query, or distance measures, or buffer, etc.).
3. Assume you are the GIS manager in your department or organization. Which Internet Mapping package do you or your organizations prefer? (choose one example for your case, such as academic departments, forest services, GIS companies, Facilities managements, etc) Please justify your choice by considering your target users, budget plans, purpose, functions, and resources. Write a one page proposal for the adoption of an Internet Mapping Package (around 600 words - posting on the on-line forum). Please read an additional reading in the [Reading] folder in the Blackboard, called "User Needs drive web mapping production selection" by Limp, F. (2001) to help you write this proposal.